Máme 15 let!
Chcete-li slavit, přidejte se k nám, podíváme se zpět tam, kde to všechno začalo.
Začátek - 2002
Společnost Lektronix byla založena v srpnu 2002 v Aldridge, stále se nacházíme na stejné adrese, ačkoli workshop prošel mnoha změnami a je nyní dvojnásobný!

Donna, náše obchodní ředitelka ve Velké Británii, uvedla: "Všechny nas to sjednotilo. Byli jsme malý kolektiv, měli jsme jen 8 inženýrů "

Rychle jsme se rozrostli v rámci Evropy a otevřeli pobočku v Irsku v roce 2005, mezinárodní pobočku a pobočku v České republice v roce 2007 a pobočku v Polsku v roce 2008. Dnes máme více než 280 zaměstnanců v 8 provozovnách, které opravují každý týden více než 1000 položek.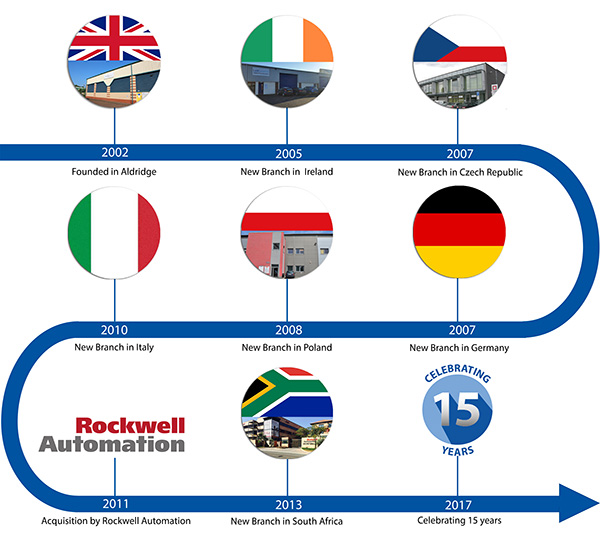 Nabyté společností Rockwell Automation - 2011
Společnost Rockwell Automation v roce 2011 získala společnost Lektronix, aby urychlila růst podnikání v oblasti služeb Rockwell Automation v Evropě a dále rozšířila přítomnost zákazníků v rozvíjejících se ekonomikách.

Naše přítomnost a odborné znalosti v oblasti oprav třetích stran doplňují a rozšiřují již zavedená a osvědčená optimalizační řešení firmy Rockwell Automation.

Společné možnosti společnosti Rockwell Automation a Lektronix nabízejí stávajícím zákazníkům komplexnější nabídku služeb, posílí intimitu zákazníků a vytvářejí příležitosti pro konverzi produktů a služeb.
Jaké jsou výhody?
Vynikající vybavení dílen
Naše dílny a testovací vybavení mají k dispozici nejmodernější technologie.
Zkušení technici
Naši vysoce zkušení technici jsou připraveni a vybaveni k opravě široké škály výrobků.
Pohotovostní opravy
Jsme schopni opravit váš vadný díl do 5 pracovních dnů*
Mezinárodní prodejní tým
Promluvte si s jedním z našich prodejních zástupců ve své mateřštině
Záruka 12 Měsíců
Všechny naše opravy a dodávky nových dílů jsou kryty zárukou 12 měsíců
Zavolejte nám:
nebo
Vyžádejte si zpětné zavolání a my vás budeme brzy kontaktovat