O Lektronix, členu Rockwell Automation
Lektronix, člen Rockwell Automation Business, je jedním z předních světových dodavatelů oprav a náhradních dílů v oblasti průmyslové elektroniky a robotiky .
Lektronix byl založen v roce 2002 s cílem poskytovat alternativní řešení k nákupu přímo od výrobců. Poté, co byla otevřena naše první dílna ve West Midlands ve Velké Británii, jsme se rychle rozšířili po celé Velké Británii, Evropě a asijsko-pacifické oblasti. V květnu 2011 získala Lektronix společnost Rockwell Automation, což nám poskytuje finanční stabilitu a přitom umožňuje udržet pocit rodinného podniku.
Máme širokou siť globálních servisních center, distributorů a technické podpory v rámci celého světa a našim cílem je poskytovat tu nejlepší technickou podporu a zákaznický servis kdekoliv na této planetě.
Více než 200.000
Prvků průmyslové automatizace
Vyřešte pod jednou střechou všechny své
potřeby v oblasti průmyslové automatizace
200.000 dílů, jedno řešení
Lektronix je poskytovatelem ucelených řešení pro veškeré požadavky průmyslové automatizace, který zabezpečuje veškeré vaše požadavky pod jednou střechou.

Opravujeme a dodáváme nové, repasované díly a výběhové díly a poskytujeme služby Service Exchange pro více než 200.000 různých dílů od více než 7000 různých dodavatelů. Také poskytujeme služby pro přechod na nové řešení.

Ať už je váš problém jakýkoliv, malý,nebo velký, náš tým obchodníků a zákaznické podpory vám nabídne spolehlivé a konkurenceschopné řešení.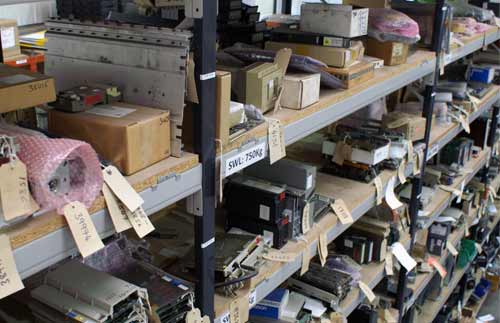 Možnost oprav i dodávek nových dílů
Naše bezkonkurenční reputace v oblasti oprav rozsáhlého spektra výrobků zaručuje, že vaše požadavky jsou splněny na vysoké úrovni. Našim cílem je umožnit zákazníkům znovuzprovoznit jejich produkty tak rychle, jak je to jen možné.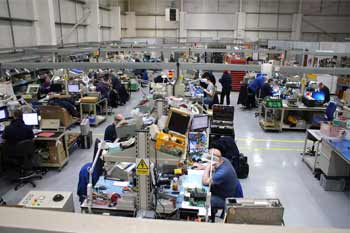 Co umíme opravit a dodat
Pobočky Lektronix
Lektronix, člen Rockwell Automation Business, je celosvětová společnost zaměřená na opravy a dodávky náhradních dílů s pobočkami na celém světě. Ať už jste kdekoliv, jsme vždy schopni nabídnout řešení, které v krátkém čase zajistí, že vaše výrobní zařízení bude opět funkční a schopno produkce.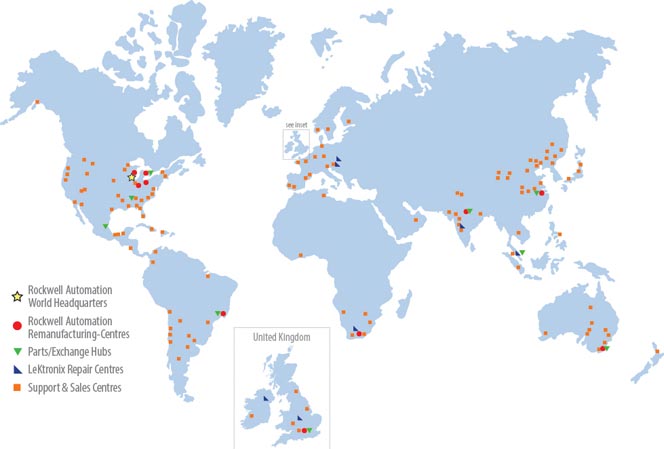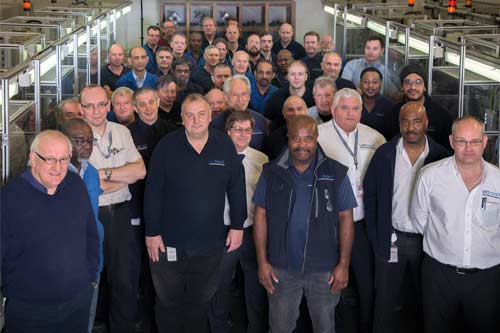 Dílny společnosti Lektronix
Zkušení technici
Celosvětově zaměstnáváme více než 100+ vysoce zdatných techniků, včetně techniků zajišťujících služby přímo na místě u našich zákazníků. Ti mohou diagnostikovat problém a provést opravu namístě. Všichni naši technici jsou akreditování prostřednictvím CCHSG 'Passport to Safety'.
Vynikající vybavení dílen
Naši technici a konstruktéři jsou vzděláni a vybaveni k tomu, aby mohli pracovat se širokým spektrem produktů jako jsou PLC, Roboty, HMI nebo AC a DC Servo motory od všech předních světových dodavatelů.
Lektronix má vyčleněnou, neustále se rozvíjející dílnu věnovanou výhradně opravám motorů. To našemu týmu umožňuje pracovat na širokém portfoliu motorů.
Naše dílna věnovaná speciálně robotickému vybavení disponuje množstvím řídicích systémů pro roboty všech vedoucích výrobců včetně: Kuka, Fanuc, ABB, Staubli nebo Motoman.
V Lektronix máme obrovskou škálu specifických testovacích zařízení, což nám umožňuje provádět kompletní funkční testy vašich dílů včetně systémů CNC, PLC, měničů, servopohonů, HMI, PCB nebo motory od všech předních výrobců, například Siemens, Fanuc, INDRAMAT, Kuka a mnoha dalších ...
Zjistěte více o Lektronix – navštivte sekci věnovanou médiím pro videa a informační brožury